Join us right here on January 21 at 10:30 p.m IST (
+5:30 GMT
) to learn about the next chapter for
Windows 10
.
We have been updating you about what all is known and what we get to know about today's much hyped - Windows10 launch.
Microsoft today, will reveal a single code base inside the software that allows single application to run well on all three platforms - Phones, PCs and Tablets.
This definitely is a huge win over the developers as this would easily cut short the need of different developers for different medium. This means that anyone who makes software
and applications for Windows Platform, will be able to make Phone or Tablet specific versions with ease.
Microsoft might also reveal a new product today, which could be a hybrid of Phone, Laptop and a Tablet, which might appeal a lot of people.
Read a few of our stories about Windows 10 here:
Lots more would be revealed tonight at 10:30pm Indian Standard Time / 09:00am PST, dofollow think link for live updates of as how it happen on the live stream.
10:01pm (IST): First Image of Windows 10 Out
Seems bright, blended and colorful. Search bar seems to be integrated with Live Tiles. Product in sight is Dell Venue 11 Pro - A Tablet.
10:20pm (IST): Pictures from the Venue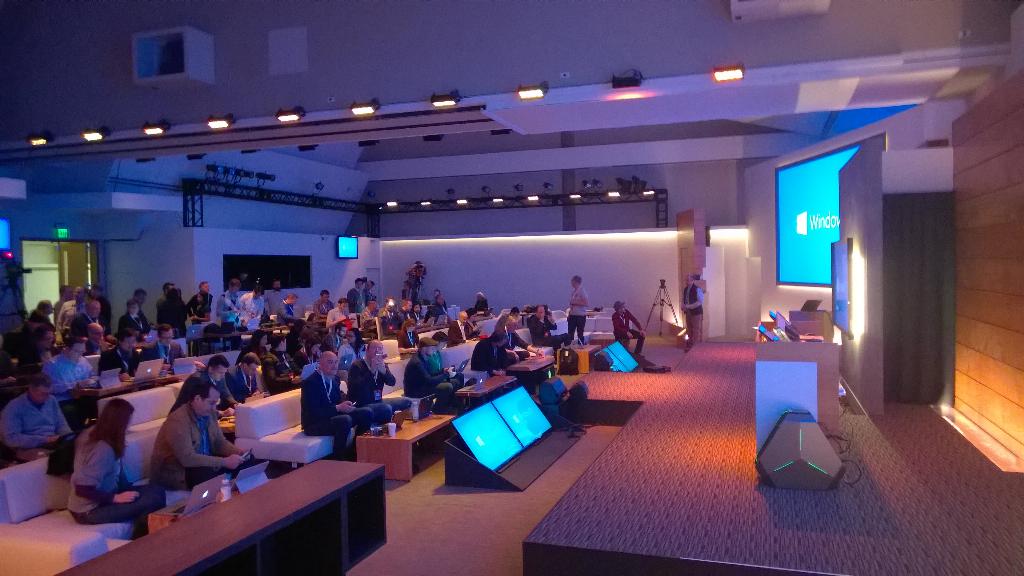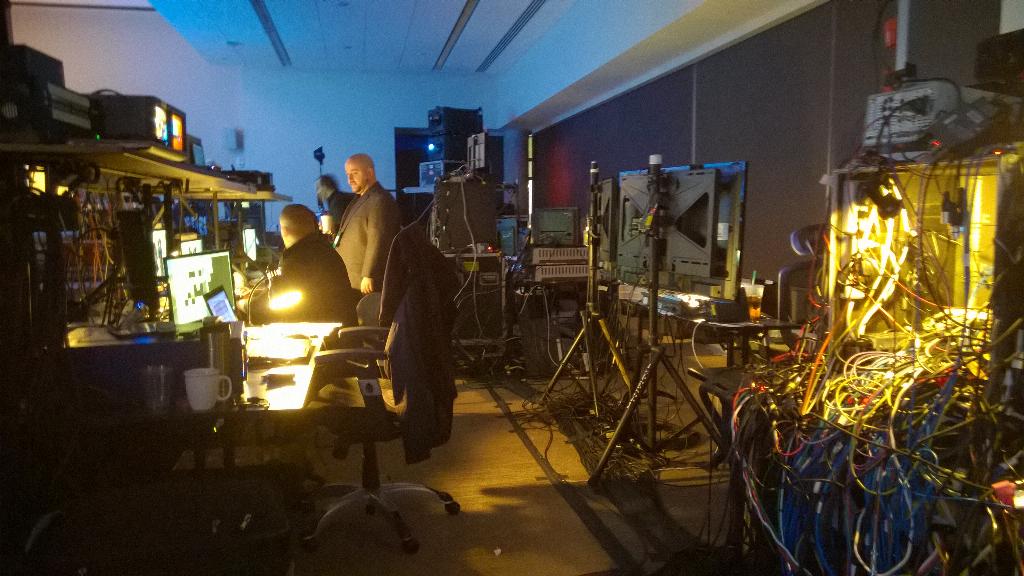 10:28PM (IST): The Show is about to begin...
Terry Myerson, Windows chief, will start and then CEO Satya Nadella will finish things up. It's going to be a 2 hour show!!
10:30PM (IST): The event has started.
Terry Myerson is on stage, is talking about the feedback on Windows 10 from developers and testers. Also, talking about how Cortana will be like never before. He is discussing the Enterprise segment first.
-
Windows 10 will protect corporate data better than ever
- The
new transparent Start Menu is coming to Windows 10 - For all Devices
-
With Windows 10, universal Windows apps come to Xbox One
- There is going to be One Store, One Platform
- Mentioning about more devices that can be announced today
-
1.7 million had signed up to shape Windows 10
A Few stats being shared,
Windows 10 has been installed over 3 million times from these Windows Insiders that signed up early to preview Microsoft's next OS

Microsoft Insiders are being praised through a video

"A special thank you from everyone on the team" to Windows Insiders
Mobility, trust, and natural interaction are key to Windows 10. "You are our customer, not our product," says Myerson
Windows 10 has been built on three pillars
Mobility of Experience

Trust

Natural Interaction
Natural interaction means "the right interaction in the right way at the right time."
Interactions can be mouse, keyboard, touch, pen.
Microsoft will be making available a free upgrade to Windows 10 for all devices running Windows 8.1.
A free upgrade to all devices running Windows Phone 8.1 to Windows 10, too.
Bonus:
Free Windows 10 for Windows 7 customers for first year.
Meanwhile, Lumia Video Upload, Lumia Selfie, Lumia Panorama picks up an Update.
Once a device is upgraded to Windows 10, Microsoft will be keeping it supported for the lifetime for the device.
One can think of Windows as one of the largest internet services on the planet.
As we expected, the discussions are moving towards making the life of developers easier. Same set of developers can now target almost every Windows Device. With the launch of Windows10,
it would be great for consumers; and for developers.
Windows 10 is so much more than the latest version of Windows. Windows 10 changes the rules of the game.
Windows really is turning into a service, that will run across every device. Exciting words from Myerson, Windows doesn't really seems to be the same Windows anymore.
11:10PM (IST)
Joe Belfiore is out!!

- A

new taskbar has been revealed, it's blue and catchy.
-
The Start Menu looks elegant, sleek and chic!!
- Delighting Fullscreen Start Menu, Resizable. That's pretty!!
Presenting - Action Center
These gestures will come soon on Windows10 enabled devices, maybe another 2-3 months.
Cortana working brilliantly on PCs, Tablets and Windows Phones

Jokes, Predictions, Leaks, Topics, Alarms (with Snoozes) across devices sync same information

for your Windows10 devices.

Cortana is your friend in need

Starts with "Ask Me Anything", integrated with Taskbar on Windows10; calling it Cortana Home

Joe is asking Cortana various questions, and

Cortana seems to be handling all these queries brilliantly. No hiccups at all.

Belfiore is discussing the notebook feature of Cortana along with what we have seen in the past on Window 8.1 Phone devices like flight tracking, weather, shopping, events etc.
Office for Microsoft Mobiles - Windows10
Word, PowerPoint, Excel all included for all Windows10 enabled devices

Office Ribbon is here, with formatting commands, Highlighting, Formatting, Color, etc

Now you can track changes as well, thanks to Office Ribbon

Powerpoint on Phone looks like how Powerpoint looks on PC

Slideshow transition, slideshow included in Phone version. Can be projected

Wireless Printing will be incorporated into all Windows10 Devices

Finally, a new outlook mail client. Universal for all devices, with Word engine build on the Mail Client
Note Mode:

You can draw all over a web page, comment, and then share these notes right on the web page

Click anywhere on the page to add comments

Touch, Pen or Keyboard - feel free to use anything to comment

A clipping tool to pull out segments and save it to OneNote

There's a new Reading Mode. It formats the web page like a book, and it looks clean and simple

Reading List that will sync across phones and tablets. You can even save content offline so you can read web pages offline.

Cortana integration is going straight into Spartan, Address bar integrated gives weather updates, flight details

If you visit a restaurant reviewing website, it gives out details, deals and reviews

Cortana also

show up and give you directions, just because she knows the web page is a restaurant and knows its menu, location, contact information, etc.
CEO, Satya Nadella on stage talking about his vision for Windows 10 and how he sees integrating the innovations in software and hardware with customer satisfaction. He wants people to love Windows as a user, as a developers. He wants Windows a part of your life, family. His vision is clear -

Being the platform and productivity in a mobile-first, cloud-first world.
Microsoft believes
Windows 10 will fundamentally make everything people do with computers today more valuable, more immersive, and more personal.
We're going to get to see Windows 10 across phones, tablets, PCs, and Xbox. That's on the promise, One Platform, Unified Application, Across Devices.
So that's it folks, really has been a heck of a night writing all the live feed for you. Please stay tuned to WindowsHive.com and do ask all the questions you have in comments section below. Dont forget to share.
...




Please share this